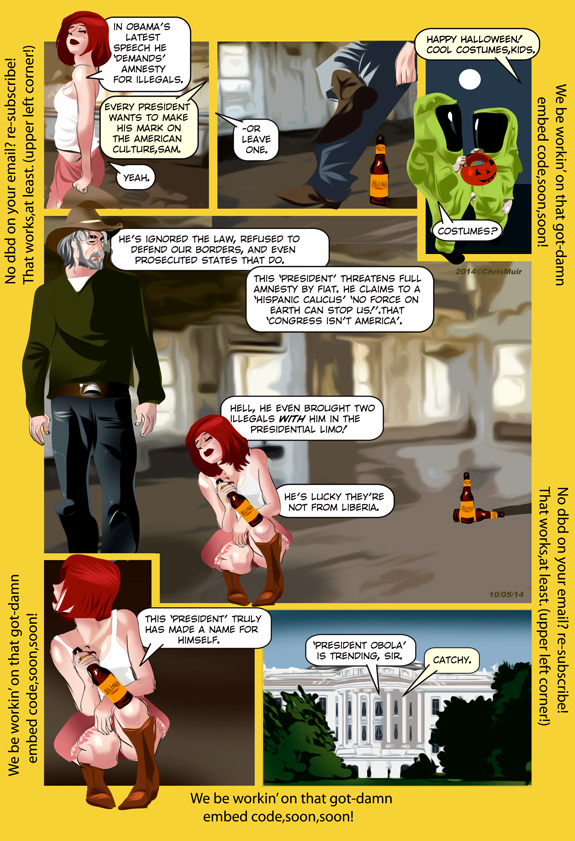 UPDATE:10-5-14
UPDATE: 10-4-14 EBOLA CONTINUES TO SPREAD. THE PROGRESSIVE REGIME OF OBAMA REFUSES TO TAKE STEPS TO CONTAIN THE DISEASE DUE TO POLITICAL CORRECTNESS.IN LARGE PART THANKS TO LEFTIST PC, THE RED DEATH IS GLOBAL.
UPDATE 10-3-14

Illegal immigrants from Liberia are living in Dallas, Texas. One man from Liberia has already fled there to tap into the superior American medical system and save his life. There will be more infected people flying in from all over the world, as our bor
ders are wide open thanks to Obama.
Ebola, which I call "The Red Death" is ALREADY airborne! The head of the CDC as good as admitted that yesterday...If you are within three feet of someone infected with Ebola, you will become infected as well and die within 3-4 weeks without Haz-Mat clothing and mask. Folks, there is no way to sugar coat this dire situation...
We are looking at deaths in the thousands, maybe tens of thousands of Americans before the end of the year UNLESS we get very, very, VERY serious about locking down the country and finding a cure. The Obama Regime will do nothing effective until its too late...We are on our own. Good luck!
DOZENS FROM EBOLA-STRUCK COUNTRIES CAUGHT SNEAKING INTO USA
EBOLA HAS LANDED IN AMERICA AND THE SITUATION WILL SOON BE OUT OF CONTROL
Officials with the Centers for Disease Control have confirmed that a person in Dallas definitely has the Ebola virus.
On MSNBC's Hardball tonight, host Chris Matthews tussled with Obamacare architect Dr. Ezekiel Emanuel over the how serious a threat Ebola is to Americans. Matthews and Emanuel also spar over President Obama saying it was "unlikely" that an Ebola case would strike the U.S.

"Obama said it was unlikely. It has happened. It's here," Matthews said.

Dr. Emanuel said there is some "fear mongering" going on here, but Matthews said he was just quoting the president and stating facts. Here's a bit of the argument that lasted nearly ten minutes:
CHRIS MATTHEWS: I'm just trying to follow the logic here. Everybody's being told, don't worry unless they have the infectious symptoms, you can see them, that you don't have to worry about catching them. Yet, this guy picked up the disease apparently from somebody who did not have the infectious symptoms.
DR. EZEKIEL EMANUEL: Again, don't hypothesize because we just don't know. We have no idea what he did or didn't do and how he got it. I'm sure that's going to be vital information to try to understand the transmission, but the idea that there's going to be a widespread outbreak here, I think is just, again, it's a bit of fear mongering. We have a single case. This is not a big, widespread --
MATTHEWS: Yeah, yeah, but I'm just going back to the president's statement, doctor, and that is that the president said it would be unlikely if we had a case in this country. Unlikely to even have one case. You want to see the tape again?
EMANUEL: He said there wouldn't be an Ebola outbreak.
MATTHEWS: No, and in the second part of his sentence he said in the unlikely case someone brings it here. In the unlikely case someone brings it here. Well, they've done it. We're living in the world of the unlikely already. That's all I'm saying. I'm not fear mongering. I'm stating the facts and I wonder if everybody else is.
###
EMANUEL: The reason we can be assured here that this isn't going to be a major outbreak is we have a CDC that can do very good contact tracing. We have a very good health system that takes universal precautions on all patients, with the gloves. And you're not regularly in contact with people's bodily fluids the way it is much more common in Liberia. I think those things distinguish it. And I don't think we should get into a panic because we were reassured it would never be in the United States.
MATTHEWS: No, the president said it was unlikely two weeks ago. Well, it's not the unlikely, it has happened. It's here.