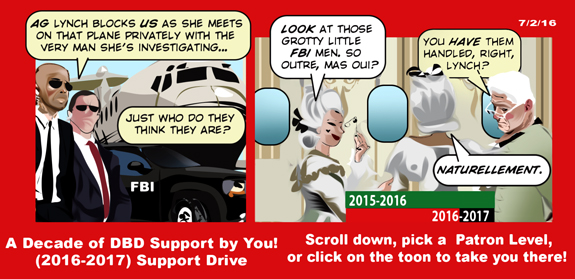 We are being played by the Clintons says Rush Limbaugh, heh? Then why is the email investigation happening in the first place? Obama could have stopped it before it got started, he owns the Department of Justice. Why the steady drip, drip, drip about Hillary Clinton's emails when he could have shut it down months ago? So what's really going on here? Don't miss next week's episode of "The Game of Thrones."
RUSH: Folks, I'm gonna tell you what I think is actually going on here. I think we are being played in the standard, common, everyday way the Clinton team plays the…
MORE:
Judge Jeanine Pirro is a tough cookie, well versed in hardball politics, New York-style. As district attorney for Westchester County, just north of New York City, she no doubt crossed paths many times with then-U.S. attorney for the Eastern District Loretta Lynch. The home-brew server of the Clinton...
DOJ sources leak that Hillary Clinton will not be indicted for her private email…