THE HILDABEAST IS SICK, DEGENERATE, CRIMINAL AND A FUCKING TRAITOR!
WHAT AN INFERIOR HUMAN BEING!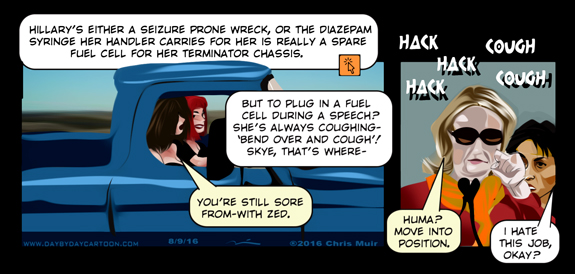 Hillary's health and mental state
. . . "Many do not think Clinton is even a
moral human being
. Any person who could lie to the parents of the dead over the fresh caskets of their sons, as Clinton has apparently done with the Benghazi victims--if you believe the testimony of the parents themselves as many of us do--has lost contact with basic human values.' . . .
Hillary's health may be the sleeper issue of the election
"
You can expect a fierce blowback of cries of sexism and more, just as soon as Team Hillary convenes in Brooklyn and decides on a strategy to combat escalating concerns about her health. In the wake of her troubling choice of the word "short-circuit" to explain a mental lapse (in other words, getting caught in a lie), broader questions of her health and stability are being voiced."
Thomas Lifson

:
Is Hillary constantly accompanied by a medic with an anti-seizure injection at the ready?
"
A stunning charge is being leveled that Hillary Clinton's health is so endangered that she is accompanied by a medic carrying an injection pen with an anti-seizure drug at the ready. And photographs are being presented as evidence of the practice.
"Honestly, I had never before heard of the site
The Ralph Retort
before, so I must proceed with a skeptical eye and allow for the possibility of manipulated evidence. Nonetheless, unless we are being deceived by PhotoShopping techniques, this looks awfully compelling.
"First, take a look at the man on the right, wearing a lapel pin and carrying something:
". . .

Read more.
The media, as expected, covers for her:
Of course, one pre-ordained line of rebuttal is sexism. ABC News pundit (and daughter of a Democrat political dynasty – both parents were Democrats in Congress) Cokie Roberts has already slammed Donald Trump as sexist for questioning Hilary's mental stability.
. . ."
Disregard the discussion about the classified markings — it's a red herring. As secretary of State she was supposed to be able to recognize classified material whether it's marked classified or not."
"Did Comey Actually Destroy Hillary by 'Exonerating' Her?" . . .
"I apologize to the squeamish readers out there, but let's give a brief overview of what we're dealing with."